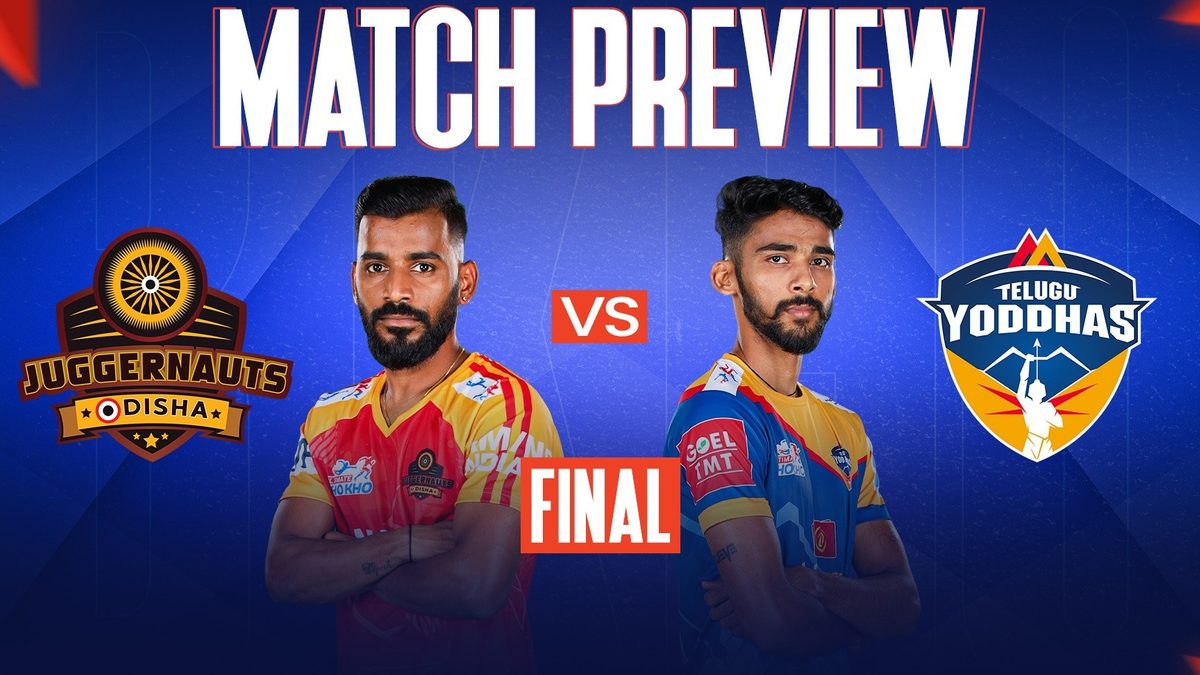 In Qualifier 2, we saw Telugu Yoddhas getting the better of Gujarat Giants to make it to the final of Ultimate Kho Kho (UKK). The wait is finally over as we reach the D-Day of UKK Season 1 and it will be a race to ace the Final on Sunday. Odisha Juggernauts are all set to face Telugu Yoddhas in this Super Sunday clash to engrave their name as the inaugural champions in UKK at the Shree Shiv Chhatrapati Sports Complex, Mahalunge, Pune.
Let's have a look at what all to expect in the Final of Ultimate Kho Kho.
Final: Odisha Juggernauts vs Telugu Yoddhas
Odisha Juggernauts have been a formidable side in the inaugural season of UKK. They have been clinical with their performances. They are entering this game after a fantastic win against Gujarat Giants in Qualifier 1. They have got Attackers like Suraj Lande, who has scored 73 points and Mahesha P, who has scored 35 points in their arsenal. In the Defenders section, their most reliable player has been Gowtham M K, who has collected 28 points for his side. In the All-Rounders category, they have got the likes of Dilip Khandavi, Nilesh Jadhav, Subhasish Santra, Milind Chavrekar, Subhasish Santra and Jagannath Murmu which can wreak havoc on the Yoddhas side. They will have to be mindful of the strong opposition Attackers. For the Juggernauts, a lot will depend on how their Defenders perform and hold their nerve in this final frontier.
On the other hand, Telugu Yoddhas peaked at the right time. They looked stunning in the Eliminator against Chennai Quick Guns and also against Gujarat Giants in Qualifier 2. They have been ruthless in the attack and are at the top of the pinnacle when it comes to attacking with 565 points. And that is not all as they are also the leading team in the defence with 108 defending points. In the Attack, they have got the likes of Adarsh Mohite, Prajwal K H, Sachin Bhargo and Sinam Rokeson Singh. On the defence front, their key players are Avdhut Patil, Deepak Madhav and Dhruv. The real strength of this team lies in their All-Rounders, who are Arun Gunki, Rohan Shingade and their captain Pratik Waikar. This could be a game of fine margins and we can expect this to be a riveting one. It can also be said that the side which will have their Defenders going in the all-important day will go on to lift the coveted trophy.
Head-to-Head:
The two teams have faced each other twice this season. In the first fixture, Odisha Juggernauts defeated Telugu Yoddhas by a scoreline of 48-39, while in the second contest, Telugu Yoddhas won a convincing game by a 65-36 margin.
Where and when to watch?
Watch Ultimate Kho Kho Live and exclusive on Sony Ten 1, Sony Ten 3, Sony Ten 4 and Sony Liv tonight. The Final of the UKK, Season 1 will start at 8:00 PM IST.