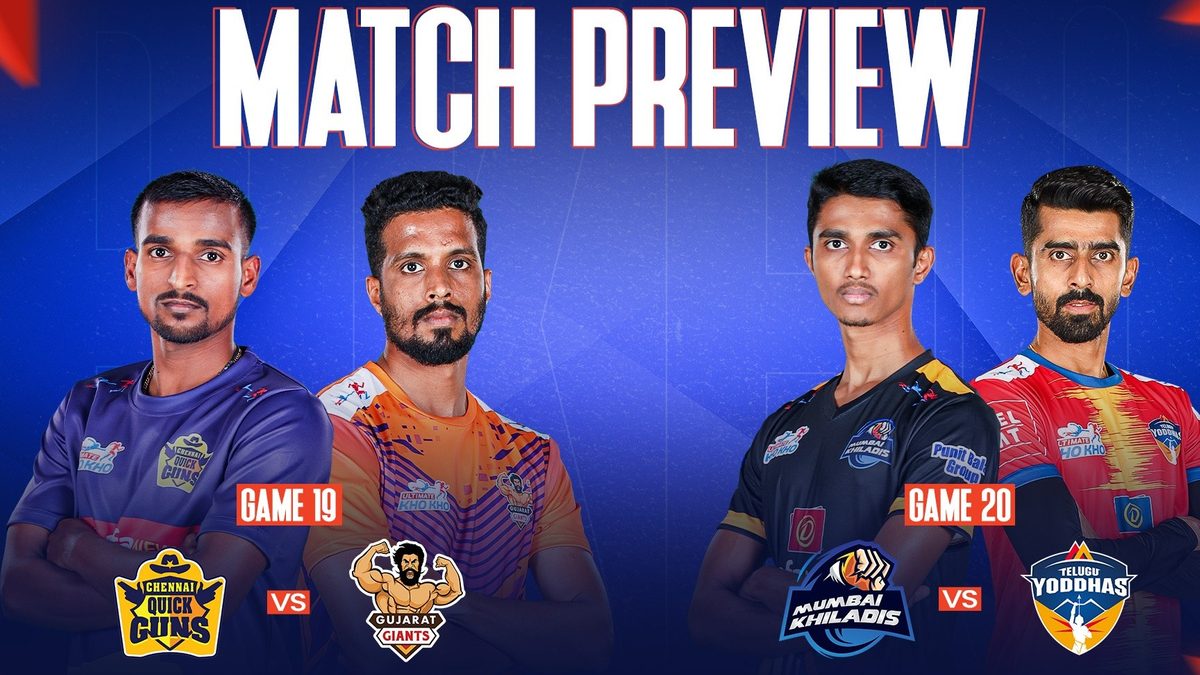 On Day 9, we came across two absorbing contests and the two releases on Friday promise to be full of exhilarating battles. Chennai Quick Guns will be up against the mighty Gujarat Giants in the first match of the first game of the night at the Shree Shiv Chhatrapati Sports Complex, Mahalunge, Pune. Telugu Yoddhas will look to go to the top of the table with a win when they tussle against Mumbai Khiladis in the second game.
Let's have a look at what all to expect on the 10th matchday of UKK.
Match 19: Chennai Quick Guns vs Gujarat Giants
Chennai Quick Guns, have looked good in the recent games except for their previous game against Odisha Juggernauts in which they faced a defeat. Out of their six matches played in the season, they have three wins and three losses against their name and are currently placed at fourth position on the table. With 34 defending points, they are the second-best team in the competition. Ramji Kashyap, the All-Rounder will be one of the most important cogs in the wheel for Chennai Quick Guns. He is the second-best Attacker in UKK with 71 points. P Narasayya can also be handy in the attack, as he has scored 35 points in six matches so far.
On the other hand, Gujarat Giants set the standard nicely in their previous game and showed us what they are capable of. The Giants have registered four wins and two losses in the tournament. They are now ranked second in the standings after the win over Telugu Yoddhas. Ranjan Shetty, their captain led by example and was the top Attacker for them with nine points. Ankit Pote was their best Defender in the game with 1:58 seconds of defending time and in total, he has scored 41 points in five matches. They would expect these two to fire in the upcoming game against Chennai Quick Guns. Abhinandan Patil has scored 39 points in five matches and can prove to be the X-factor along with their star Ankit Pote.
Head-to-Head:
These two teams have met once before in this season and Chennai Quick Guns got the better of Gujarat Giants in a cliffhanger by 53-51.
Match 20: Mumbai Khiladis vs Telugu Yoddhas
Mumbai Khiladis have endured a frustrating run of form in the tournament so far. They have won just two matches and have lost four. They are coming into this game after a win against Rajasthan Warriors. Vijay Hajare, their captain has failed to galvanise the troops amidst the mayhem and has scored just 20 points in six matches. All eyes will be on their star Defender Sreejesh S who has got the tournament's best defending time with 10:46 seconds. They will have to work and improve on their defence if they have to give themselves a chance in this game against Telugu Yoddhas.
Telugu Yoddhas have played six games this season where they have won four and lost two games. In their previous game, they lost to Gujarat Giants in a close encounter. They would look to work on the loopholes and make a strong comeback in this game. This team has inflicted the most number of Full On Chases (3) in the tournament and would look to capitalize on Mumbai's weak defence. They have also got plenty of defensive pedigree in their squad. Arun Gunki has given stellar performances in the past and has been consistent in his all-round show with 52 points. Rohan Shingade, the other All-Rounder on their side is second to none as he has 47 points to his credits. If these two live up to the billing, they can make things difficult for Mumbai Khiladis.
Head-to-Head:
Telugu Yoddhas have faced each other once earlier this season, where the Yoddhas secured a comfortable win by a scoreline of 55-43.
Where and when to watch?
Watch Ultimate Kho Kho Live and exclusive on Sony Ten 1, Sony Ten 3, Sony Ten 4 and Sony Liv tonight. The first game of the day will start at 7:30 PM IST, while the second game of the day will begin at 8:45 PM IST.